3 Favs & a Q - Aug. 27, 2020
How'd you get into this?
Hey Everyone!
Here are a few of my favorite things this week:
Favorite pet picture: Thanks, Laura, for sharing this picture of Patrick with us!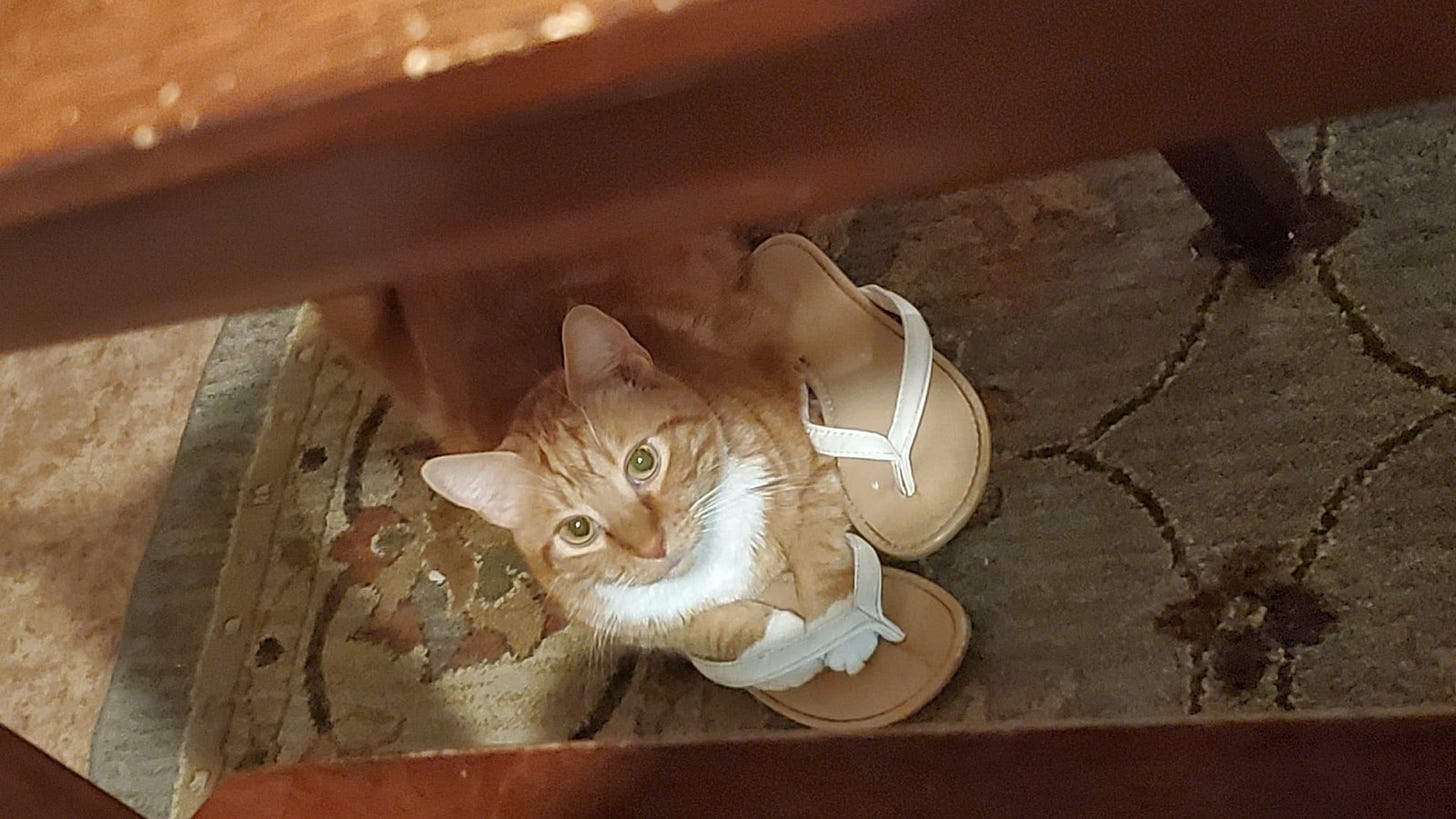 Favorite book quote: From Moana's Big Leap by Suzanne Francis

"I used to think she was fearless."

"Was she?"

Sina shook her head. "No," she replied. "But she practiced. A lot. And the more you practice, the more comfortable and confident you become.

Random favorite: This week I've been loving Mother-In-Law's Kimchi Muu Daikon Radish. (No, this is not a paid endorsement. We just tried it for the first time this week and I loved it!)
Do you have any favs to share with us? I'd love to hear them!
Question
Karen, how did you get into doing this "energy of the day" stuff?
I first learned about checking in with the energy of the day by using the I Ching when I was in acupuncture school. I tried, and as much as I wanted it to, it didn't work for me. Then I heard about doing the same with tarot, but it also didn't resonate with me. Then I heard about checking in with the energy of the day by using the moon and planets. I'd never really been into astrology - my horoscopes never seemed to fit - but I decided to try it out anyway. I did it a couple of times and realized how much the young kids in my life matched the energy I was expecting. So I told my husband about it and I watched as he used the information I'd given him to empower his parenting. (He's a very empowered parent, but I watched as he made a different choice than I expected as a result of the information he'd been given.)
Then, one day, I didn't do the work that needed to be done to understand the day's energy. That day was a mess. I was angry, impatient with my family, and I had an intense need to be alone (which was impossible at the time - which made things worse). That night, I compiled the information for that day and realized: It was a time of retreat and renewal. There were both aggressive and loving energies and while some in my family manifested the higher vibrational energies, I fell into the lower vibrations and got stuck there. Had I been aware of what that day would bring, I may have been able to utilize the energy differently and perhaps could have made different choices. The day could have been a lot more enjoyable for everyone involved. That made me realize how relevant the energy of the day is to all of us and I realized I needed to share this work with others.
My work is to keep my vibration high and to inspire others do the same. That is how I propose we heal the problems the planet is facing today. This is just a little extension of that work. 
---
Do you have a question that you would like featured in the next 3 Favs & a Q? Let me know here:
Sales Pitch: My daily energy updates are quick and to the point so you know what to expect and how to deal with it. They don't include jargon or explanations about this moon position or that planet. Along with the energy update there is a meditation or activity that can support you and your family as you align with the energy of the day. When you subscribe, you can expect the daily energy updates in your inbox at 10pm PT the night before. Please keep in mind, the closer you are to California, the more accurate your update will be. The accompanying meditation/activity will still be beneficial for you and your family.